Lesson 14 – More Rumbas and Bossas
Here are two new pieces I wrote which will test your reading and playing skills. The first has a flamenco Rumba feel and the second one is a Bossa Nova called Andiamo.
Tip:
You can use the track selector at the bottom of the window to change to 'backing track' which will play only the backing parrt of the song which you can use to accompany you.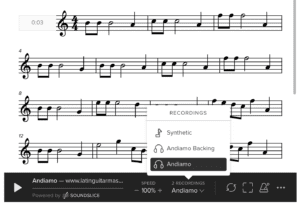 Play Along Tracks
---